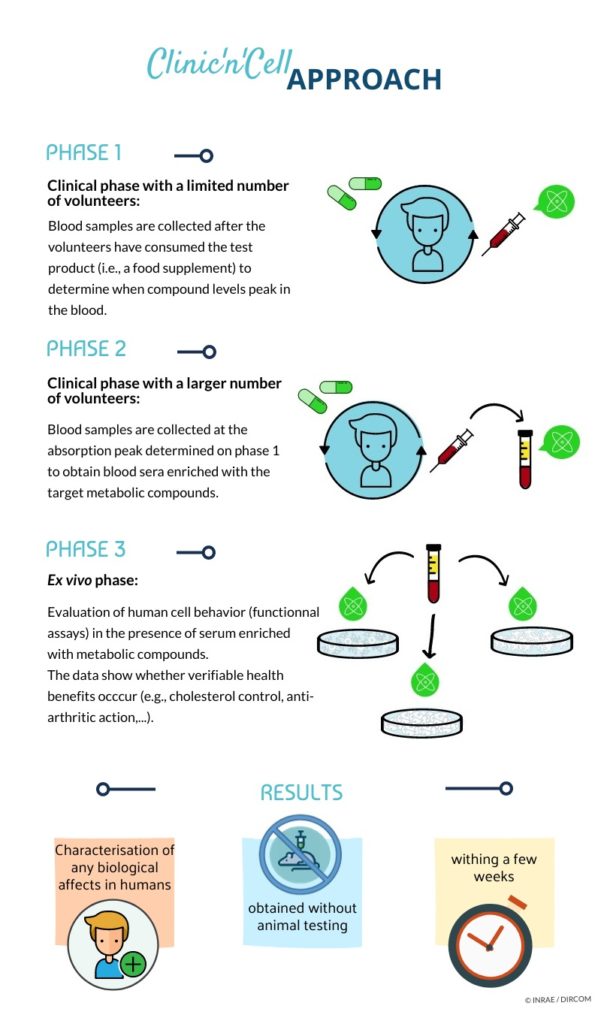 You want to quickly validate the health benefits of your product in humans?
With a few volunteers, human cells, blood samples and a protected know-how by INRAE / UCA, Clinic'n'Cell SAS can offer you a turnkey ex vivo clinical study and accompany you through the drafting and the publication of your obtained scientific data.
Context: When you want to market a product with a health benefit for the population (medicine, food supplement, etc.) you need credibility to reassure the authorities, the end customer and, if possible, set yourself apart from your competitors
… to make it short, you need science.
To understand the importance of this credibility as a key factor in the nutrition / health market (around € 450bn worlwide with growth of 8%)
eg: In the 2010s there was a -7% decline in turnover due to unfulfilled promises of "slimming" products
In France, the food supplements market is resisting the crisis and generating 2% growth in France in 2020 to reach 2.1 billion euros in turnover.
Opportunity: Usually to scientifically demonstrate this benefit in humans, a clinical study is launched, but it is risky, expensive, very long and very often chaotic. Some may fall back on animal experimentation but there is a risk in terms of image and ethics. In vitro tests may be usefull, it's quick but it's poorly physiological and therefore meaningless for health claims.
Solution: The idea of Clinic'n'Cell SAS (Clinicncell) is to propose a new research model involving the human person (RIPH) that is faster (5 times more rapid) and more accessible (10 times less expensive) than regular clinical research. ClinicnCell is more physiological than an in vitro approach. and more ethical than animal testing.
Thus, we have developed a new scientific approach which is protected by INRAE and the University and that enables the health benefit of a product to be demonstrated quickly and directly in humans, without going through animal testing. Clinicncell.com
How it works: In this "ex-vivo clinical" approach, instead of looking at what is happening inside the human body and having to wait months or years for the results, here we will "go through outside the body" thanks to blood serum, human primary cells and protected know-how.
Elements of reassurance: This scientific approach has proven itself (7 validated clinical studies + publications). Clinic'n'Cell / Clinicncell / CnC SAS is located at the Faculty of Medicine and Pharmacy of Clermont-Ferrand (CIR 2020 accreditation; winner of the Frenchtech BPI 2021). clinicncell.com
Optional: you want to handle the clinical phase on your own ?
1. In this case, contact us to set blood sampling and storage according to our methodology needs.
2.Once samples are collected, send them to our facility
@ ClinicnCell – Faculté de Médecine – 28 Place Henri Dunant – TSA 50400 – 63001 Clermont-Ferrand Cedex 1 – FRANCE.
3.Once samples are received, we perform the Ex Vivo Human Cell Culture settings.
4.We determine and provide human data regarding the biological activities of your product. clinicncell.com

1er marché visé par ClinicnCell est le marché des compléments alimentaires, nutraceutiques, nutricosmétique et autres aliments fonctionnels à destination de la santé. Le CA des compléments alimentaires est estimé à 450 Mds de dollars au niveau mondial en 2020 pour une croissance attendue de +8%. Les facteurs clés de ce marché nutrition santé sont la naturalité des produits et leur crédibilité scientifique (Synadiet 2019). C'est précisément ce qu'apporte l'offre Clinic'n'Cell (crédibilité scientifique et éthique, sans passer par l'expérimentation animale). Les bonus sont : la rapidité de la démarche et la production de data chez l'humain.
Quand vous souhaitez mettre sur le marché un produit avec un bénéfice santé pour la population (médicament, complément alimentaire…) vous avez besoin de crédibilité pour rassurer les autorités, le client final et si possible vous démarquer de vos concurrents,
….bref vous avez besoin de science. clinicncell.com
Pour comprendre l'importance de cette crédibilité en tant que facteur clé du marché è marché de la nutrition – santé = environ 450mds € avec une croissance de 8% è ex : dans les années 2010 recul -7% CA /(environ 100M sur le marché français) en raison de promesses non tenues des produits « minceur » / En France, le marché des compléments alimentaires résiste à la crise et génère 2 % de croissance en France en 2020 pour atteindre 2,1 milliards d'euros de chiffre d'affaires.
Le marché des compléments alimentaires résiste à la crise et génère 2 % de croissance en France en 2020 pour atteindre 2,1 milliards d'euros de chiffre d'affaires.
Pour le marché de la pharma : l'approche peut s'appliquer à tout type d'investigation RIPH. Dans le cadre des phases 1 et 2, cette approche peut se greffer sur des protocoles cliniques pharma et être réalisée en parallèle pour (1) la détermination d'activités biologiques exploratoires, (2) pour sécuriser/dérisquer en amontl'investissement clinique de grande envergure à l'aide de data humaines préliminaires, (3) pour rechercher et valider des biomarkers en amont des phases cliniques classiques.